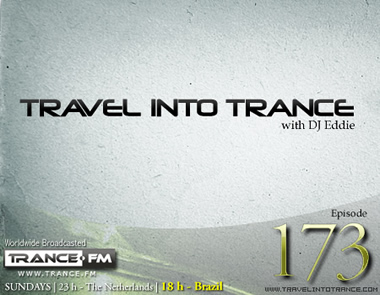 Salve, Galera!
O programa desta semana está mais 'light'. Iniciamos com "Riddles In The Sand" e o belo remix de Omnia. Do novo EP de Estiva trago "I Feel Fine", você confere também Union Jack com "Two Full Moons and A Trout" no remix de Orkidea.
A faixa da semana é a nova produção de Armin van Buuren no remix de Andy Blueman.
Envolva-se com o remix de Manuel De La Mare para "Pulse" de 2XLC.
Fechamos com Temple One no Classic Tune.
Uma ótima semana e até a próxima!
-
The set of this week is more 'light'. We get started with "Riddles In The Sand" and the Omnia's remix. From the new Estiva's EP I bring "I Feel Fine", you will listen to Union Jack with "Two Full Moons and A Trout" as well.
The track of the week belongs to Armin van Buuren with "Tuvan" remixed by Andy Blueman.
Get involved with Manuel De La Mare remix to "Pulse".
The classic tune is "Aurora" by Temple One.
See you next week!
Tracklist
01. Ron Hagen & Pascal M "Riddles In The Sand" [Omnia Remix]
02. Thomas Coastline "Love Victims" [Temple One Remix]
03. Estiva "I Feel Fine" [Piano Mix]
04. Union Jack "Two Full Moons and A Trout" [Orkidea Remix]
05. XGenic "Sensitive" [Fast Distance Remix]
06. Dennis Sheperd & Cold Blue "Freefalling" [Dennis Sheperd Mix]
07. Faruk Sabanci & Nurettin Colak "Anatolian Emotions" [Myon & Shane54 Remix]
08. Lange & andy Moor "Stadium Four"
09. M.I.K.E "Sunrise At Palamos" [Gareth Emery Remix]
10. Markus Schulz pres. Dakota "Koolhaus"
Track of the Week
11. Armin van Buuren pres. Gaia "Tuvan" [Andy Blueman Remix]
12. Innerstate "Sundown"
13. 2XLC "Pulse" [Manuel De La Mare Remix]
14. Airwave "Urban Touareg" [Vocal Mix]
T.I.T. Classic Tune
15. Temple One "Aurora"
Link para download:
160 Kbps VBR
SITE:
http://www.travelintotrance.com
STREAMING:
http://streaming.travelintotrance.com
BLOG:
http://www.travelintotrance.blogspot.com
TWITTER:
http://www.twitter.com/EdgarFarias