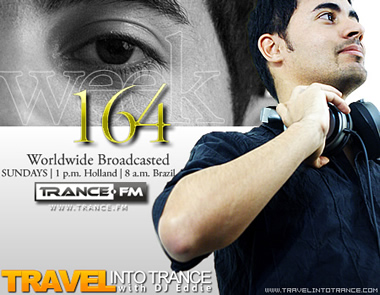 Salve, Galera!
Esta semana você acompanha um set bem uplifting, destaque para Jorn van Deynhoven com "Fastlane" e o remix de Rozza, Ehren Stowers, Epica, Mark Andrez e a faixa da semana com "Java" e o remix de Kim Svard.
Até o próximo programa!
-
This week you'll listen to a set filled of uplifting, hilighting Jorn van Deynhoven with "Fastlant" and the Rozza's remix, Ehren Stowers, Epica, Mark Andrez and the track of the week featuring "Java" and the Kim Svard Remix.
See you!
Tracklist
01. Lando & Zekyel vs Angel Ace "Amethyst"
02. Above & Beyond pres. Oceanlab "Lonely Girl" [PROFF Remix]
03. Matan Zohar "First Glance"
04. Claudia Cazacu feat. Augrey Gallagher "Freefalling"
05. Jorn van Deynhoven "Fastlane" [Rozza Remix]
06. Gustav "Gossip Girl"
07. Ehren Stowers "Quarantine" [Isolation Mix]
08. Sequentia feat. Per Linden "Undiscovered" [Omnia Remix]
09. Epica "Moments"
10. Chephren Blake feat. Meighan Nealon "Year After"
11. Mark Andrez "Another Angel"
Track of the Week
12. Black Pearl "Java" [Kim Svard Remix]
13. Paul van Dyk "Forbidden Fruit" [Giuseppe Ottaviani Remix]
14. Rex Mundi "Scorpion"
T.I.T. Classic Tune
15. Supermodels From Paris "Keep On" [Komytea Remix]
Link para download:
160 Kbps VBR
SITE:
http://www.travelintotrance.com
STREAMING:
http://streaming.travelintotrance.com
BLOG:
http://www.travelintotrance.blogspot.com
TWITTER:
http://www.twitter.com/edgarfarias