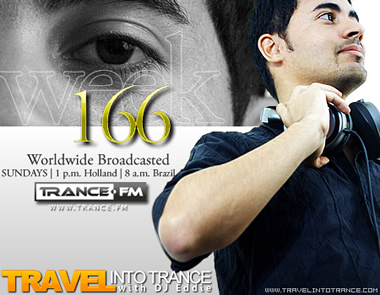 Salve, Galera!
Estamos de volta com o que há de mais novo no trance progressivo. Esta semana trago belas produções, iniciando com Mike Mikhjian e "Whispers In The Air", em seguida "One More Time" e o remix de Solarity. O uplifting dá o tom para "Blue Morning" e o remix de Temple One para "Frozen Shores". Marcie aparece por aqui com "Somehow". Mark Andrez é um produtor que sempre traz ótimas músicas, você confere "Flames" em sua parceria com Den Rize.
A faixa da semana é de Ferry Tayle e Static Blue com "L'Acrobat" e o fantástico remix de Andy Blueman. Para quem conhece o projeto Cape Town de Tayle sabe o nível de suas produções.
Fechamos com Lemon e Einar K com "Hope", faixa bastante intuitiva.
Uma ótima semana a todos!
-
We are back with the newest progressive and uplifting tunes. This week I bring nice productions, starting with Mike Mikhjian and "Whispers In The Air", following by "One More Time" Solarity remix. The Uplifting tone features "Blue Morning" and the Temple One's remix to "Frozen Shores". Marcie is here with "Somehow". One of my favourites producers, Mark Andrez is the one who brings nice tunes always, you shall like "Flames".
The track of the week belongs to Ferry Tayle and Static Blue with "L'Acrobat" and the superb Andy Blueman's remix. Those who knows the Tayle's Cape Town project also know the level of his productions.
We finish with "Hope" by Lemon and Einar K, a very intuitive one.
Good week to everybody. See you soon.
Tracklist
01. Mike Mikhjian "Whispers In The Air"
02. Noel Sanger "One More Time" [Solarity Mix]
03. Dave202 "Departure"
04. Redd Square "Digital Acoustics" [Onova Remix]
05. Tommy Baynen "Blue Morning"
06. Stone & Young "Frozen Shores" [Temple One Remix]
07. Dreastic "Blade Runner" [Dreas Bangin Mix]
08. TyDi & Dennis Sheperd feat. Marcie "Somehow" [Sebastian Brandt Remix]
09. Mark Andrez & Den Rize "Flames"
10. Markus Schulz "Do You Dream" [Uplifting Mix]
11. Dakota "Sin City" [Rex Mundi Remix]
Track of the Week
12. Ferry Tayle & Static Blue "L'Acrobat" [Andy Blueman Remix]
13. Airborne Angel "Aviate" [Brake Force Remix]
14. Mike Shiver, Matias Lehtola feat. Andrea Britton "Captured" [Joonas Hahmo Remix]
T.I.T. Classic Tune
15. Lemon and Einar K "Hope"
Link para download:
160 Kbps VBR
SITE:
http://www.travelintotrance.com
STREAMING:
http://streaming.travelintotrance.com
BLOG:
http://www.travelintotrance.blogspot.com
TWITTER:
http://www.twitter.com/edgarfarias